Kamado type of cookers is known all over the world for their high quality performance. The ceramic type is considered the most expensive smoker available on the market. They may seem fragile to the eyes, this is because they were constructed with heavy ceramic shell. These materials are more expensive than the usual metal materials that were usually used in other types of grills.
Char-Griller Akorn Kamado Kooker Review
If you were one of those looking for the most reliable grill, you would be satisfied with Char-Griller 16620 Akorn Kamado Kooker because of the efficient functions they offer to their users. This smoker is considered superior to other brands on the market for several reasons.
The smoker is fuel efficiency; this means that it does not consume large quantities of fuel like similar products on the market today. Because of the reduced fuel consumption, it is cheaper to use Char-Griller Akorn Kamado Kooker than other brands.
Moreover, the product is famous for its high temperature and high cooking capabilities. Because it operates at a very high temperature, it is more efficient in cooking. You can see that it was a competently built smoker.
Features of Char-Griller Akorn Kamado Kooker
The grill has fantastic features, which made unique. First, it has enough cooking space measuring about 302 square inches and 165 square inches for its warming rack. This is spacious enough as it could cook varieties of foods with ease.
Secondly, the grate is composed of cast iron. In addition, it has both bottom and top dial vents. Other features available here include the following:
Folded metal side shelves.
It has a body coated with porcelain materials.
It stands on a three leg and on a wheeled cart.
To ensure a quick and easy ash removal, the product is fitted with removable vent at its bottom.
The product is available in various types of colors.
Why Char-Griller Akorn Kamado Kooker different
The brand is different for various reasons. It was produced using an ancient Japanese technology. The technology was modified and it has become the epitome of charcoal grills all over the world. The technology makes it perfect for everybody and it is not surprising that this brand is lucrative all over the globe.
The product is such popular that prices can change according to location. Because of the need to reduce the prices and produce a more durable and portable product, the material used in its construction was transformed from ceramic to an insulated steel material.
Because of the transformation, the product is now more solid, meaning that it is more durable, lighter than the previous models, and cheaper in the market as well. The reduction in cost is because of the cheaper materials and reduction in the cost of labor. Whether you purchase the first Char-Griller Akorn Kamado Kooker or the modified brand, you are sure of getting the same quality service from the product.
You would derive several other benefits from using this brand of kamado grill in your home. The major benefit remains that it holds heat more efficiently than any other type of kamado you can think of. It uses less charcoal and provides high temperature. Hardly any other kamado brand could reach up to 700 degrees like the Akorn.
The seal was perfect, this is another area you are going to derive a good benefit from Char-Griller Akorn Kamado Kooker. Because it is tightly sealed, it would not leak heat. Even the earlier product of the brand was not as sealed as this brand. This is why it is considered the best of its kind you can lay your hands on the market. Even if you like to slow your cooking, you can cook for low temperature of about 200 degrees. This is another factor it was considered a great smoker.
A great way to cook
It is obvious from the unique qualities that Char-Griller Akorn Kamado Kooker is the great way to cook. Many people who have used this product were not in a hurry to switch to another brand.
Learning curve
For you to derive the most benefit from this brand, you should know that there is a learning curve to it. You cannot just start using the product without learning how to use it. You should try at least two trial runs with it before you begin to use it for your cooking. It is important because you need to know how to control its temperature. Trial periods would afford you the opportunity to control the temperature.
Char-Griller Akorn Kamado Kooker is insulated and has a double wall. Despite its solid construction, it is still portable and less expensive. A cheap smoker offers efficient cooking service. It is a perfect charcoal smoker that work exactly like the famous charcoal grills that are known for years. When you buy this product, you are going to enjoy the same type of service, which users of the most expensive kamado smokers enjoyed over the years and a fraction of its cost.
It is a remarkable product
Thousands of users worldwide believed that the brand is remarkable many ways. It is regarded as the king because it could perform most of the functions that other smokers can do at a reduced price. The factor that makes it remarkable is the fact that people are enjoying the high-end services it provides to its users at a cheaper price. Even at cheaper prices, you would observe that it works at the same capacity with other versions.
Many users were amazed with the fact that side-by-side comparison with other popular brands on the market did not return a negative report about Char-Griller Akorn Kamado Kooker. It can prepare BBQ and other types of foods you can think of.
Portability
Perhaps the greatest attribute of this great product is the fact that it is portable. You do not worry about moving your smoker from one part of the home to another because it is lightweight. This is because it is produced with lightweight steel materials and not the ceramic materials that were used to produce previous brands of the same smoker.
Located on both the bottom and top of the smoker is the calibrated dampers. This is however, part of the removable ash pan. These were firmly secured at the body of the smoker using metal latches. To an easy use and removal when the need arises, a flexible gadget in one of its edges holds each. The major complaint people have against this is that it could leak and this could be attributed to its quality. By mere looking at this gasket, you would not be in doubt as to whether it is cheap or not. It is common to see many of them that were not well attached. The equality is expected because the manufacturers wanted this way in order to cut down the cost.
However, the gasket could only appear to leak, but in actual sense, you would discover that it would hardly leak. Even if leaks you would not find it difficult to replace it. The dampers are good because many users do not complain about it.
Char-Griller Akorn Kamado Kooker contains an extraordinary lid heat indicator. It uses a digital thermometer and that helps users to reduce stress they encounter with the product.
Easy to use
As said, you can easily observe that the product has a three-legged cart. The cart was sturdily built and that is why it is very effective in providing support for the product. You would not find it hard to add coal to the system because it has a removable center where you can easily add coal to the system.
This product is indeed built to retain enough heat. This important factor puts it at an edge over its competitors. Once the system gets hot, it would retain this heat for a long time. This means that it does not cool easily after getting hot. This is good as it can cook any type of food that requires high a temperature. Sometimes, it could be difficult to control it when it overshoots the required temperature. There are various versions and colors in the market and they all work the same way. If you are looking for the most affordable smoker for your home, this is the product to go for.

---
PROS:
It is the most affordable kamado styled smoker.
It has high temperature of up to 700 degrees FIt is lightweight and that is because of the materials used for its production.
CONS:
It is known for burning off paints when it reaches high temperature.
Because of its uncoated cooking grate, there is a need for care and seasoning.
Product
Photos
Last reviews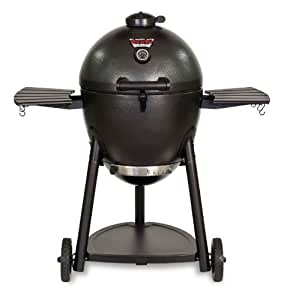 Kamado style cooking comes from ancient cooking methods that used large clay ovens for insulation. Kamados of recent years are made of heavy ceramics. Char-Griller has developed this product for ...
Available:
In stock
This is my first Kamado style cooker. I wish I had bought one years ago. Kamado Kooker works much better as a smoker that my old off set fire box Texas style smoker. We love smoking meats. I was first attracted to the Big Green Egg, but the $1,000 cost with stand was a bit much for me. I bought this Char-Grill Kamado grill smoker for $340 with stand and delivered. Very easy to assemble. Parts all fit well. It took about 40 minutes and the only tool you need is a 7/16" nut driver. I first heated it up to season the grills and then cooked hamburgers at 600 degrees. It takes some time to get used to heat control. The key is keep it low and slowly increase. It is very easy to raise temp, but slow to reduce. I next tried ribs and chicken in smoke mode on plate setter. I also bought the dual temp remote reading thermometer. This was great and I highly recommend. I am not sure you can hold temp at 200 degrees for a long time. I am trying smoking turkey today and I will start low. I also bought the automatic fire box controller and I will see how it works. So far I love the Char-Griller Kamado. I am not sure what else the BGE offers for $1,000. I suspect the bottom vent seal on BGE is tighter to provide better temp control at low temps. I also suspect the thick ceramic shell on BGE will provide better temperature control as a heat sink.I also suspect the BGE has an almost unlimited life span versus probably 10 or 15 years for the metal Char-Griller. I may need to add some high temp sealant on the lower vent. The ash removal is much easier on the Char-Griller versus the BGE where you have to scrape out the ashes. So far, I am extremely satisified. Best griller and smoker I have owned.I have now smoked a 14 lb turkey since my last posting. The Char-Griller Kamado worked very well.Read more ›
March 8, 2022
I bought this model Kamado Kooker a couple of weeks ago, and this morning I am cooking my first ribs on it. This is my second Akorn Kamado Kooker. I bought my first one two years ago. Last summer bringing it home from our vacation cottage it toppled out of the back of the truck. It was still usable, but rather banged and dented up. . . the cast iron grill broke in two place. I could still use it, but it was inconvenient to add charcoal, etc. I use the Kamado almost every weekend and occasionally in the week in the summer months so I decided to buy a new one.Several nice design improvements are apparent in this model, compared to my previous one.Old model had wooden boards on the flip up shelves on the side. They cracked and warped in the sun and rain.New model, the flip up shelves are metalOld model had a very very loose top air control vent, that I had to tape up with aluminum tape in order to have fine control of low temp cooking.New model has a greatly improved top vent, with an o-ring and a tight fitting slide. It even has a little notch in the vent, whether intended or not, serves nicely for the external digital thermometer cable to pass into the grill.With no taping of my own. . . just using the cooker as assembled out of the box, I'm cooking ribs with the top vent nearly shut, and the bottom vent cracked about ½ inch. The temperature is holding steady at 232°f.Improved design in the new model gasket between the lid and the body.Improved design of the inner liner, with tabs to help keep it evenly spaced from the outer shell.Read more ›
March 15, 2022
If you have never used a Kamado cooker before, this will change your life. I have been grilling and smoking for years. Usually about 3 times a week, more in the summer.I bought my first one in May and my second one in August. Why do I need two? I don't (don't tell my wife) but I thought it would be good for partys where I am doing a long low and slow smoke. I could use the other for side and other dishes that need done at a higher temp. This is rarely the case. You usually need to let the smoked meat rest for an hour or so for optimum results. This leaves plenty of time for veggies, fruits, burgers, and dogs after the smoke but before the meal.I really can't say what I like best about it. It is a better smoker than any offset barrel smoker I have owned. It is a better grill than any gasser or kettle I have ever used. And it gives you the added benefit of a convection oven. We cook pizza, cornbread, desserts, cobblers, etc. on ours. The possibilities are endless.There are better alternatives out there (Big Green Egg, Kamado Joe, Primo XL), but these are four and five times as expensive. And only moderately better. If you want to research peoples opinions who own these (multiple of these) go to Kamado Guru .com. It is a great resource.
November 8, 2021
Bottom Line
Char-Griller Akorn Kamado Kooker is the most affordable smoker you can get on the market today. They were produced in such a way that users would derive maximum satisfaction from the product at the most affordable cost. You can derive benefits from the product if you learn how to use it. It is simple to use it, but you have to learn it.