Weber Performer Deluxe Charcoal Grill is the best of its kind that were introduced to the market. It is famous all over the world due to its capacity, quality, and versatility. It is different from other brands on the market for several reasons. It is the most iconic charcoal grill ever made.
Weber Performer Deluxe Charcoal Grill Review
This is the most powerful grill you can lay your hands today. Various features such as its large table set it apart. It is fitted with a large table and that indicates the quantity of foods you can grill with the product. Although it uses charcoal, the charcoal is powered by gas charcoal lighter. Moreover, it is a precision griller, because it uses a digital timer. It is fitted with the famous Gourmet cooking grate system.
It is a perfect charcoal grill. It could cook various types of foods and it can be used for various kinds of cooking styles. If you are looking for the grill you would derive the maximum cooking experience, you have to think about Weber Performer Deluxe Charcoal Grill, it is fitted with all the features that would make you have the best cooking experience. This version is the best, because it has everything that you are looking for in a grill.
Weber Performer Deluxe Charcoal Grill has several attributes. It has about 363 square inches cooking space. This is great, because you can cook different things, as the space is big enough for kinds of cooking. It has great and fantastic features and that is why users derive great experience using the product. You can prepare different meals at a time.
Furthermore, you have seen that the grill is also fitted with Gourmet BBQ cooking grate. It is a unique system, and contains all the qualities, which Weber grills are known for. It makes it great for cooking and barbequing.
The Lighting system is very simple; the charcoals can be ignited using a gas burner and a push button ignition. This makes it faster for its charcoal to be ignited. This helps speed the cooking processes. It has a digital timer. This makes it easy for its user to customize their cooking, as they could easily time the quantity of heat they would apply to their food. You can time the food to the appropriate temperature. The digital timer can be removed if you like.
The body was composed of porcelain-coated steel. It is coated with a porcelain powder material. It has a lid that is made of steel as well as a fire bowl.
Furthermore, it is composed of aluminum vents as well as an ash catcher. This catches ashes from the grill. Because of this feature, ashes do not litter the place it is used.
Weber Performer Deluxe Charcoal Grill is solidly constructed. It is coated with porcelain material. The stainless steel construction ensures that the product is durable and strong. It uses a large plastic charcoal bin. It contains enough quantities of charcoal; this is why it facilitates cooking. If you want to use it for an indirect grilling, it is fitted with two aluminum charcoal baskets. It means that you can use this product for both direct and indirect grilling. This is why it is considered the most useful grill you can lay your hands on the market today.
The most respected grill in the market
Weber has earned a reputation as the manufacturers of the most useful grills. There is no doubt that one of the best products of the company is the Weber Performer Deluxe Charcoal Grill. It is the most outstanding and the most respected charcoal grill you can find in the market today. It is not surprising that the brand is the most desired in the market. Evidence has shown that the brand is described worldwide as the pinnacle of charcoal grill from the company.
There are different versions of the product on the market today. One of them is the table-mounted version. This brand is very popular among users for several reasons. First and foremost is that this version is easy and very convenient to use. It is the easiest grill charcoal that you can use today.
Weber Performer Deluxe Charcoal Grill is powered by gas. The type of gas it uses is the standard disposable propane gas. This is always contained in a bottle. This is mounted near the grill center, normally under the coal grate. To start it, you need to pour in the charcoal, turn the gas on, and push the ignition button and the burner would be lighted. It does not take more than ten minutes for you to commence cooking because it does not take time for the gas to spread all over the charcoal. When it is heated, you can put off the grill and start your cooking. It is usually easy and quick in heating the charcoal.
Weber Performer Deluxe Charcoal Grill is regarded as versatile, because of the steel plating and hinged grate. This has a center that can be easily removed. It can be replaced with different types of accessories and this can be used for different purposes. Most of the accessories are sold separately. Accessories starting from pizza to ebelskiver pan can be used. These are used for different purposes.
The digital cooking timer is not designed for a long time cooking. It is best for 99 minutes cooking. This means that it would work for 99 minutes, after which it would go off. If you like, you can buy the time separately, and it is available at many outlets and it does not cost so much.
High-end grill
Many people who have used this brand in the past would tell you that this is the best charcoal grill. It has no close substitute in the market today. The product has no substitute because there is hardly any hybrid product you can find in the market.
It is described as a performer grill on steroids. The gas is merely meant to assist the charcoal to catch fire easily. You would notice that you would like the product, because it is a gas grill that gives charcoal flavor. You do not need to use a charcoal chimney. Pile your charcoal at the center, and put on the gas and allow to burn from five to ten minutes. Once the coal has started burning, you can put off the propane gas. It is simply the best that you can use to grill your foods. It is the fastest method that you can use to burn your charcoals to generate enough heat for your cooking.
Using the grill is easy, because of the presence of the built in tool holders, as well as lid catcher. The lid catcher was meant to hold its cover, especially when it becomes very hot. The surface is composed of plastic as well as storage rack below and charcoal bin. This makes it easier for users to store about twenty pounds of dry charcoal. These protect the elements from being destroyed.
One touch cleaning system
The most important thing many users like about this product includes one touch cleaning system as well as the removable ash catcher. These make it easier for the grill to be cleaned. The product was redesigned a few years back to make it user-friendly. Manufacturers use the opportunity to cure some of the defects observed from the earlier versions of the product. One of the innovations was the inclusion of the in-built charcoal bin. This would now be easily accessed simply without removing the work surface, which used to be the position in the past.
This brand remains the best for cooking device as well as a unique conversation piece. This is a great grill, which you can enjoy for many years to come.
Whether you want an older version or the new version, you are going to enjoy the same experience. The older version is composed of higher quality materials and is very expensive, than the newer version, which uses state of the art technology, plastic, and cheaper materials and more affordable than the older version. The newer version was simplified in a way that you would not find it hard to use.

---
PROS:
Enough work surface.
Fantastic features.
Profane gas powered ignition system.
Versatile use.
CONS:
It has a digital 99 minutes timer.
Product
Photos
Last reviews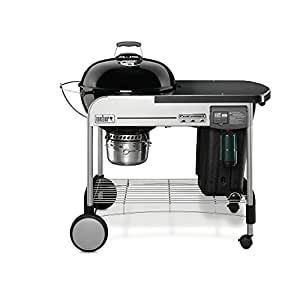 The Performer Deluxe grill features an exclusive Touch-N-Go gas ignition system that ignites charcoal briquettes with the push of a button. Especially handy is an LCD countdown cook timer with a ...
Available:
In stock
I absolutely love this grill. Great quality and looks awesome. It took me just over an hour or so to put together from start to finish. It was quite a simple build. There are so many positives about this grill I won't bother mentioning, because you probably already know the quality Weber brings. The only con if I had to pick one, is that there are two bolts/nuts that are inside the grill that pop out, so when inserting and removing the cooking grate they sometimes get in the way. Other than that minor issue, this grill is a must have for any griller out there.
February 14, 2022
All I want to say is this is a great grill.But besides the awesomeness behind this grill there's something even better, the warranty! and Weber standing behind their products and best of all keeping their customers satisfied at all costs.I made a mistake by cleaning my Weber Grill with "easy off" due to my ignorance the paint on the steel table came off as well as all around the grill it looked horrible with the paint falling off. I called Weber and told them about my horrible mistake and they asked me not to worry about a thing that they would send me all the replacement parts for free and I could keep the old ones. I got the parts in 3 days! I have only had this grill for about two months. American-made you can never go wrong with this grill. I am one of the most satisfied customers and I will for sure continue buying nothing but Weber products for my barbecue. You can never go wrong with this grill I've had other kinds of grills and charcoal runs out very quickly, on this one it does not because it keeps air out and you control it. easy to control the heat! Other brands of grills, air gets in all around and you cannot control the heat. This is great thank you Weber I am a very satisfied customer!!The photos attached show the discoloration of the paint which was my mistake and the other picture shows the grill with all the replacement parts back to new!!!
February 27, 2022
This is the "new" (improved) model. Very impressed with the design and build quality. Weighs 100 lbs so it's no lightweight. Larger than I thought, did not check out the product in retail stores before purchasing. Instructions for assembly use diagrams instead of written instructions - I understand these are "multi-lingal" by nature but in a couple steps I was left wondering "what are they trying to tell me?". Weber Support people deserve my high praise, I had to request a couple parts (one pc broken in delivery, stripped screws in flat table top), they over nighted deliveries, even giving me a (non-800) direct phone number to use if needed (didn't need it). I mean they answered my email requests within a hour, had the parts next day! Waiting for snow to melt to test it, but I've worn out older 22" Weber grills so I'm confident this will be fine. Anxious to try the gas assist lighting, with plans to use a Weber chimney so I can start coals for my Weber smoker. This new model uses a metal table top instead of thick plastic. HINT: avoid stripping the table top screws (4) by NOT tightening the (4) screws holding the main bowl in place. All 8 screws need to be loose to get the screws started. The model comes with the gourmet grill, which has removable center circle where you can inset a wok or flat grill (ext. costs) and I plan to purchase them. I purchased this unit because my gas grill cannot get up to the 500+ deg heat for searing steaks. This unit appears to be TOP quality. Purchased the Yukon Glory 7455 "premium" cover based on user feedback, haven't used it yet.Added 3/12/15....had a chance to fire it up Sunday and get a feel for it. I REALLY like the gas starter.Read more ›
March 5, 2022
Bottom Line
You have seen great benefits you can derive from this product if you purchase it. It is the best charcoal grill you can get in the market today. It has great features and very easy and simple to use. Weber Performer Deluxe Charcoal Grill is the best of its kind produced by the company.