Bradley Smoker BS611 Bradley Original Smoker is the most innovative meat smoker in the market. The product is sold complete with all the necessary accessories making it a perfect smoker. It has fantastic and easy to use features, which are necessary for different kinds of grill. It is the unique product for preparation of food with clean tastes.
Bradley Smoker BS611 Bradley Original Smoker - Review
The name Bradley is almost synonymous with perfect grill. This is because over the years, the company has made a name as the leader in the manufacture of the best smokers. One of the best products of the company is the Bradley Smoker BS611, which is the product under review. This smoker is better than other brands from the same company, because of the new features and accessories that come with it.
What makes the product different from others?
Many new features make it better than similar products on the market today. First is that the product is fitted with new stainless steel which could be found inside. This new feature is unique because it makes the smoker last longer as it makes it look solid and durable. Moreover, it is fitted with a new rack. This additional rack provides support for the system; it prevents it from turning over when it is pulled out of the grill.
Moreover, there is better heat control with the aim of preventing moisture from developing. Furthermore, many features of the smoker have been improved significantly. The new improved features include: Electronic components, Front faceplate.
The generator was added with a removal panel in one of its sides. This is significant, because it makes it easier for the product to be cleaned and maintained when the need for that arises. This is in addition to the larger front feet. This provides additional support to the grill.
To improve its performance, the smoker is fitted with four removable racks, as well as a temperature control dial. There is a remarkable improvement in the temperature control feature. Unlike the previous product, it is easier to control. It is easier to control the smoking process. Moreover, a new feature you can find in this smoker is that it now supports slow roasting and slow cooking. This is why it is also regarded as a slow roasting oven.
It is apparent that it is a better smoker, because of the superior materials that were used in its construction. As could be seen from one of the features above, it has a superior stainless steel construction for its interior, in addition to the construction Powder Epoxy Steel. This constitutes the cooking element. Apart from the 500-smoking element, it has a capacity of 125 power, 120 v50 60-60 Hz. This shows that it is superior to similar brands found in the market.
The smoker, judging from the improved features is convenient and easy to use. It makes home smoking very smooth and simple. It is the first choice for homeowners and this is because of the unique features. It has an automatic fueling and wood feeding mechanism. To achieve a perfect grilling, it has the most accurate and consistent heat control feature. This means that it offers the most reliable and effective way of attaining heat control during the smoking process.
Because of its automatic wood bisquetting system, users would be sure of continuous and clean smoking. It has the capacity to smoke food for more than eight hours. You are sure of achieving a complete smoking without stopping to refuel the system.
With the maximum temperature of about 250 degrees Fahrenheit, users are sure of effective smoking in the grill. It has two different burners. One burner is for electric smoking while the other burner serves as the oven. Its smoke generating system is automatic. The inside is insulated with stainless steel material; this makes it safe for its users. It has a one-year warranty. Hardly could any smoker get such extended warranty.
What is the objective behind the manufacture of this smoker?
There is no doubt that BS611 is an innovation as far as smoking technology is concerned. It is the most popular brand for chefs, sportsmen, and indeed anybody that desires a consistent and precision-based smoker. It has all the things you need for the most versatile and tasty food. The Bradley objective is to make a smoker that is easier to control and easy to use.
The burner has removed all the challenges users face about smokers. With its insulated cabinet, electronic control device, and the automatic smoke generators, the frequent problem of interruptions as well as constant temperature fluctuations and smoke production are eliminated. These problems would never arise with the use of this smoker. These ensure that foods smoked taste very well.
Insulated interior
You have just observed that smoker's interior is fully insulated using stainless steel material. The essence of this is to help its users smoke cold and hot days without altering the cooking temperature. Because the inside is insulated, it ensures more heat retention. It also makes it easier for the smoker to be cleaned when it becomes necessary to clean or maintain.
Automatic smoke generator
This is the perfect cooking solution because you do not need to be checking the temperature or replacing the woods from time to time. The automatic technology ensures that the bisquette is feed twenty minutes intervals. Because of this, you can achieve unadulterated and pure food smoking. You load bisquettes that last for up to eight hours at once.
You have just seen that one of the features that make this product unique is the presence of oven burners and separate smokers. This means that it has two ways of generating heat to the system, which includes the oven heat and the generated heat. This means that you can easily generate heat for your food without smoke. In the same way, you generate smoke from the system without heat. This is perhaps the only grill that can offer you this type of function.
It has fully supported removal racks. This ensures that users enjoy all the necessary accessibilities with this product without tipping. The four racks give users more than five hundred and twenty square inches to fit properly.
Ease of use
One thing that makes the product great is that it is easy and simple to use the smoker. It has an illustration book, which guides users on how to use the product. Moreover, the recipe booklet ensures that you can prepare different types of dishes using the product.
You would not find it difficult to grill any type of food, because it has a maximum temperature for different types of foods you want to grill the product. You do not need to spend your whole time keeping vigil on your food, the smoker was produced in such a way that it would do most of the works for you with minimum or no supervision.
Whether you are a novice or an expert in grilling, the product would make things easier and faster for you. All the fantastic features available in the product mean that it would be easier for you to prepare all types of foods. Whether you are a skilled, professional or a novice cook, the smoker is the best thing you would use in your home for the comfort and enjoyment of your family members.
Bradley original smoker is indeed unique in the way it prepares and smokes foods. It is revolutionary, because it is at least four times better in the way it grills food than the traditional smoker is. It is good because it satisfies requirement for European and the North American standards for such appliances.
If you want to enjoy comfort while smoking various types of foods, you have to go for this product. You can see now that is simple and easy to use. It has one-year warranty. It lasts for a very long time and you can use it to prepare different types of delicious dishes. No other smoker can compare with it. You have much to gain when you get this product.

---
PROS:
It is has a temperature control dial which means that it is easy to control the temperature.
It has four adjustable wire racks; this creates lots of cooking space.
The interior is composed of stainless steel material making it easier to use and control, as well as regulate the temperature.
It is easy and simple to use as the instructional materials included in the system provide guides as regards its use.
CONS:
There is hardly any disadvantage associated with the product. This means that it is the best smoker one can buy for home use.
Product
Photos
Last reviews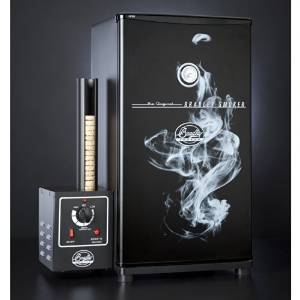 For years now, Bradley has created world-class smokers, and now we're excited to show off the new Original Bradley Smoker. The new Bradley Original Smoker comes with many new features: ...
Available:
In stock
My wife had purchased a Masterbuilt smoker from Cabelas for Christmas for me. Within one week it had failed (electronics) I returned it to Cabelas and was told that was the third one of those that day. I immediately started looking for something else.I had heard of teh Bradley before but it was way out of my price range. (cabelas wanted $419). i decided to look on Amazon adn got it from them for like $320 or something. Got it home and started teh seasoning process very excited.One thing to note is it comes with no biscuits, so go buy some right away in order to season it or do anyting(I think they shoudl throw in a few to at least season it).I have smoked different types of chicken, pork, even almonds, and to date my biggest accomplishment was a 17lb turkey.Pros: Easy to use, easy set upCons: lack of info about how to smoke (times, temperatures, etc in the book.) Lack of biscuits to start the seasoning process.Hope this helps.
February 12, 2022
I have read about the Bradley smokers and just could not decide if I wanted to switch from wood or gas-fired smokers. I retired my old bullet smoker which really was not that great and after hearing a great review about the Bradley I decided to purchase it. I should mention one of my major concerns was the fact I would have to use the Bradley biscuits. You know maybe it does cost more, but I do not regret the decision at all even if I do have to use their biscuits. In fact I have done more meats at once in this smoker than I have ever done. The build quality of the smoker is excellent. THe door fit perfectly, all components are well designed and the packaging was perfect. THe resulting meat smoked was just great. I have done pork ribbs, brisket, chicken, and a pork butt. In summary, I believe this is the best smoker I have owned based on my limited number of smokers owned. THe things I like is ease of setup, no mess, easy cleanup, and great results. I should also mention the support from Bradley is outstanding. One thing you might want to purchase is a set of aluminium biscuits because I found that the last two biscuits do not always get ejected fully onto the burner.
August 6, 2022
I've had my original Bradley Smoker since 2001 and have never smoked a piece of meat that did not turn out delicious!First of all the company has outstanding service. When it came, even though very well packaged, the heating element/bulb was broken. Overnighted a new one to me! Second problem was the bisquettes would not advance, I was reluctant to disassemble it due to warranty concerns. They could not explain the reason so again they sent me a completely new smoke generator....!!!! They said I could keep the supposedly defective unit so I took it apart and a wire was not connected. Put it back together and have been happily smoking ever since!Go to the Bradley site and do a bit of reading...thousands of wonderful recipes and suggestions. Fish are unbelievable. Jerky...wonderful! Try the bacon recipe...the recipes are never ending as will be your satisfaction!What sets the Bradley apart from any other smoker are the bisquettes. They feed through a magazine and every 20 minutes the burnt bisquette is pushed into a small pan of water before the wood's ashes can start emitting rancid chemicals. THAT just may be where some folk's have been turned off before when eating smoked meat. The taste is amazing with the smoke from the various wood bisquettes and the taste is not harsh at all no matter if you smoke only a couple of hours or in to an all day excursion into a whole roast.After literally hundreds of loads of fish, meat and veggies the only thing wrong is that the door seals leak a bit and I need to replace the racks. They are chrome and starting to rust after many many cleanings..We experienced smokers will tell you to purchase the original.Read more ›
December 1, 2021
Bottom Line
Bradley Smoker BS611 Bradley Original Smoker is the most innovative brand. It has the most useful features, which make it easier and most user-friendly smoker in the market today. It is a precision-based smoker, as you do not need to supervise or monitor the product while using it. It is programmed in a way it offers you the best while you go about doing other things.