Char-Broil American Gourmet Offset Smoker - Review
Char-Broil American Gourmet Offset Smoker is an offset grill. It has 315 square inches cooking area with 670 square inches of space. It is one of the best smokers available on the market with standardized features. It is the most affordable grill and perfect for a small family. It can smoke any sizeable meat and food. It is designed to serve you better with fantastic features.
Char-Broil Offset Smoker American Gourmet Grill - Review
This grill is meant to serve small families of four to five members. The smoker is not the type of grill that you could use if you have a big family. It is not suited for parties or for big occasions that would require cooking for large numbers of people. It is most suited for small group of people. It is cost effective and very reliable. It is simple to use. It is a popular choice for beginners, not just, because it can prepare delicious foods for such people, but because of the wonderful features, which make it easy to use. Here are some of the features that make the grill wonderful.
Features
The great thing about this offset smoker is the fact it offers a good range of practical features. Here are the features you expect from this American offset smoker anytime you buy one. It has a cooking area, which is composed of 315 square inches. This space is large enough to cook for a family of four to five members. Apart from that, it has a rack space of 670 square inches. It is not like other smokers as it cooks horizontally unlike similar products in the market that cook vertically. It ensures a smooth airflow and that is because of its vented stack.
Moreover, the body is composed of wire porcelain steel materials. It weighs 104 pounds and five feet long. It is equally fitted with a firebox door, which was meant specifically for cleaning of ashes. The smoker stands on a tubular steel legs, this is why it does not occupy a large space. It is not as large as similar products. If space is your problem, you would not have a problem using the product because it would not occupy a large space. The temperature gauge is located at the center of the grill making it easier for the users to read and monitor the temperature. The smoker is produced from China.
It is fitted with a small firebox; with this, you can constantly check the smoker for wood and charcoal. You need this constant checking to ensure that heat is applied to the system very often. The grill is not as strong as those you would find from other standardized smokers; this is because they are produced from welded metal sheet. This does not mean it is not good, it only shows it is not as thick as those found in other high quality grills.
You can see from the features above that it is an impressive product and perfect for family use. The design is of high quality and durable enough to serve its users. The price is also very attractive and no doubts that many people opt for it. Many families often start from the product as their first smoker and switch to bigger smokers as their families grow in number.
Using the smoker
The smoker is regarded as a combination smoker because it can grill and do a barbeque at the same time; this is possible because it is sizeable enough for that as can be seen from the size of 290 square inches. The cooking area is the main chamber. There is other chamber as well. You can prepare your meals from any chamber of your choice. The main chamber is sizeable enough to cook quantities of foods that can serve family members. You can achieve a perfect cooking with this grill. This is possible from its steel firebox, which is meant to offset the heat and to achieve slow smoke flavor. It has a side shelf, which is located at the most convenient place. The main chamber can contain up to nine burgers at a time. With direct heat application, you can cook up to four burgers in the firebox. This is possible for both the black and the coated cooking grates. Chrome plated handles ensure that you can easily open the chambers through the handles as it would not be hot.
With the multiple and adjustable dampers, you would not find it difficult to control its heat and regulate the smoke coming out of the cooker. It is easy to regulate the quantities of heat you apply for both the primary and the secondary cooking areas.
How to use the smoker?
The firebox is not big, it is small, and this means that you would small quantities of woods to the firebox. When you want to add woods to it, you must ensure that it has small logs. It would never hold sufficient quantities of charcoal or woods at one time. You should have your eyes on the fire every time to ensure there is constant supply of heat to the system. The offset fire ensures that indirect heating is applied to the grill. You would get a perfect smoking and flavoring from the meat because of the special way you can prepare the meat using slow heat.
Why it is unique
It is specifically meant for your cooking convenience. It has a door and side shelf. You would not find it hard to store accessories because you can conveniently do that at the side shelf provided. The door is meant for quick removal of ashes as you cook using your grill.
Another important factor that makes it unique is its portability. Fitted with two wheels, it is simple to move it around through the wheels. Moreover, the body is made of weightless steel materials. This also helps to make portable. Because it is a horizontal grill, airflow would be through the vented stack.
The smoker is a perfect option for household beginners. Smokes are transmitted to the foods that you cook through an indirect heating method. It is a traditional and yet stylish grill.
People who do not have large numbers of people to feed in their home always opt for this smoker. It looks slightly better than other grills on the market as could be seen from its straight barrel design. This makes it attractive and modern. The lid also has a built in thermometer. This is perfect for a grill that does three things together such as smoking, BBQ and grilling. It is great and suitable for the most things you often do with a grill. If you like, you can use it as direct grill, but you have to keep the lid up. However, if you want to use it as a direct grill, you should know that it would be difficult for you to adjust the distance between the charcoal and the food you are cooking.
The unique feature of this grill remains the offset firebox. This feature makes it different from similar brands on the market. Because of this, you would be able to prepare special, smoked, and delicious foods for your family. It has a small barrel compartment located below its main chamber. You can see from the features that both the secondary and the primary cooking areas are designed to let you enjoy the best cooking experience. The grill is better than the similar products you find in the market because many of them do not have enough cooking space.
Bottom wire shelf and front shelf are designed to help you store your charcoal, which you would need very often as it runs out very fast. Users would have quick and easy access to the system through the front location. Safety is another important factor that makes this grill unique. You are safe using the product because of the cool touch handles as well as its two-wheel design. You can use the product without worries and you can easily move it from location to another.
If you are a beginner, it is the right time that you go for the perfect smoker. It is simple and easy to use. You do not need to spend your lifetime fortune to own a grill, however, with this simple product; you can get the perfect smoker for yourself and your family members.

---
PROS:
It is great for small families.
It is regarded as the entry-level grill.
It is affordable and has the features of most expensive grills.
It is a tried and a tested smoker
It is easy to use and clean.
CONS:
Produced from cheap and inferior materials.
It rusts quickly and the paints peel easily.
Bottom Line
Char-Broil remained the perfect smoker for small families. It is constructed based on infrared technology. It is a perfect for your lifestyle. The product is not just simple, easy to use; it is also the most affordable smoker in the market. The smoker is the safest and most portable grill every beginner can comfortably use in his family.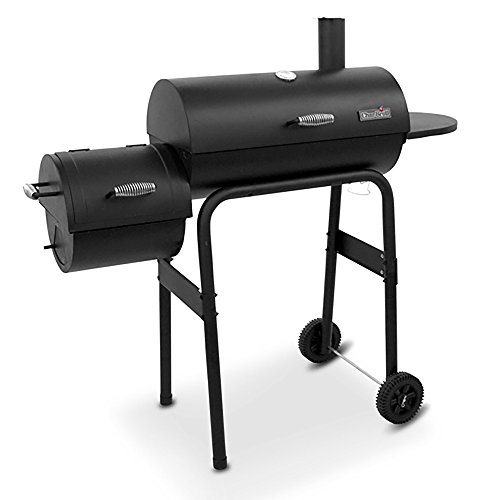 $64.99
$79.99
11 new from $64.99
5 used from $58.49
Last updated on December 13, 2021 11:41 pm