Dyna-Glo DGO1176BDC-D Charcoal Offset Smoker - Review
Dyna-Glo DG1176BC-D Charcoal Offset Smoker is the popular choice for those who want to get the best cooking experience. This grill is equipped with many features that would allow you to cook many things at a time. It is the ideal for any home because it could be used in different climatic conditions. It is professionally designed and easy to clean and maintain.
Dyna-Glo DGO1176BDC-D Charcoal Offset Smoker - REVIEW
Dyna-Glo DG01176BC-D charcoal offset smoker is designed to help users get the perfect cooking performance they have been itching for. It is fitted with unique features, which facilitate different forms of grilling activities. This is why you could prepare different types of meats using this grill. The product has hundreds of square inches smoking area and that is why it could contain food of about 100 lb weights at the same time. To ensure a perfect cooking, it has up to six adjustable cooking grates as well as a strong porcelain enameled charcoal and wood tray. To reduce heat loss, it has a double door. This helps control heat when you are adding wood chips or charcoal during the smoking process. It constructed with heavy-duty steel and furnished with a powerful temperature powder paint coating. This ensures the durability of this product, which means that it would last for several years. The offset charcoal box ensures that the heat is well controlled; you can adjust the quantity of heat you administer to your food through this mechanism.
Fitted with a large cooking area
As could be seen from the description above, this product is fitted with six different cooking grates. These grates do not only have enough height, they are adjustable as well to accommodate any size of chicken or meat you want to grill. Because of the height of these grates, it is possible to prepare a full turkey with this device. This is possible because it is designed vertically.
Using the offset firebox for the first time
The product has an offset firebox. Before you use it for the first time, you have to fire it up. This is needed to fix the problem of leaking, which you would observe if you do not heat it for the first time before putting it for a permanent use. You would observe during the firing up process that it would be leaking and smoke would be coming out of the place where the firebox was attached to the grill. This problem would be solved by using a high temperature calk. This could withstand a temperature of about five hundred degrees and more. This could solve that problem for forever.
Equitable distribution of heat mechanism
The dual door enhances the aesthetic value of the product and ensures that it gets more heat. We have said earlier that the body is composed of heavy-duty steel. The steel is thin and it conditions the grill and ensures that it maintains a very high temperature. The grill is produced based on the flourishing Chinese technology. The powder coating is used in the body of the product. The painting quality is recommended, because it is seen as high temperature paint. It helps further to preserve items prepared with the grill, especially during the cold weather. Because of the high quality of the paint, it does not easily rust and that is why it would last for a long time.
Better performance
This perfect grill would assist you in achieving the delicious and well flavored, and smoked food you desire for your family and friends. They are rated high above other similar products on the market, because of its high quality performance. Because it is made from high quality heavy-duty steel material, you are sure that it would serve you and your family for a very long time.
Methods of heat application
Consumers rate it high not just for the high quality food flavoring they get from this grill; it provides an option for customized cooking. You have the option to select the wood chip of your choice and with this; you can simply achieve the type of flavoring you desire for your meat and food. Apart from using wood chips on this grill, you still have the choice of using charcoal as your energy source and you can achieve the type of flavoring result you want for your food. Because of the different heating sources, you are certain that you are going to serve your family and friends maximum smoked and flavored food.
Vertical design
The vertical design ensures that you get the maximum benefit from this product. It provides for indirect heating, this makes for a slow heating process. To ensure even distribution of heat, the system is infused with an offset functionality. This ensures that heat is kept away directly from the food you are preparing and in the process ensures that food at the bottom does not cook earlier than others above the grill. It ensures there is an equal distribution of heat to all parts of the burner, which you desire for a perfect cooking.
Cooking chamber
Furthermore, the product is famous for its efficient burning and this is due to the well-designed charcoal system, which includes a well porcelain enameled chamber. This charcoal chamber is made in such a way that it keeps stacked briquettes securely to the system. The double door serves different purposes. The major purpose is to ensure that there is a reduction in the temperature whenever you want to have access to the food you prepared and when you desire to add more charcoal or wood chips to heat up the system.
All weather flavoring product
The Dyna-Glo smoker as you can see is designed to help you achieve the professional flavoring, which you desire your chicken, ribs, steaks and any other food you want to prepare with it. It is perhaps the highest performance grill you can lay your hands on the market today. The product is climate friendly, it does not matter whether you are using it during the snow, sunshine or during the raining season, it would give you high quality service. It is designed in such a way that it would withstand different climatic conditions it would be subjected to.
Designed for an efficient cooking
To ensure that the grill rises to the challenge of any occasion, it is vertically designed. The purpose is to ensure that heat applied to the system rises to the top. This way it achieves a better smoking and flavoring for your food. To ensure a slow and perfect cooking, the offset functionality takes heat away directly from the item you are cooking with this grill. Slow cooking ensures that there is equitable distribution of heat and perfect smoking and flavoring. This product would rise to any cooking challenge it could be subjected to. This is the major reason it is the most popular choice on the market today.
Well spread out cooking
It is specifically designed to ensure there is a spread out cooking. This is possible because of the adjustable cooking grates, which are six in number and lengthy enough to accommodate any type of food you want to prepare with it. It has enough space up to 1176 square inches and the grate has a capacity of 25 pounds each. This ensures that food you prepare with it is spread out and properly smoked. The burning efficiency is guaranteed by the charcoal chamber, which is composed of a porcelain enameled steel material. It securely and tightly holds the briquettes. This further ensures the heating efficiency of the system.
Cleaning the system
It is not difficult to manage the ash and charcoal that come out of the system. It is fitted with a removable steel ash pan. This accommodates different quantities of ash for several hours, and could be easily disposed off anytime you want. It is properly designed to ensure easy removal and cleaning of the system.
Temperature control
You can control the quantity of heat you apply to the system through the temperature control mechanism. Smoke stack functionality ensures that temperature is controlled and this helps to bring additional flavoring to your meat. It has a smoke zone, which shows the ideal temperature, which you can subject your food to. It has an easy to read gauge, which you can always refer to achieve the perfect smoking you have always desired for your food.
You have seen the enormous benefits you can derive from Dyna-Glo DGO1176BDC-D Charcoal Offset Smoker. You can achieve a perfect smoking and flavoring for any type of meat of any size. The product is even affordable, as you do not need to empty your bank account to prepare delicious foods in your home. You would be an envy of the neighborhood and friends if you procure one today.

---
PROS:
You can upgrade the system if you want.
It provides different sources of heating.
It is easy to maintain.
It is efficient and weather friendly.
CONS:
It is fitted with a thin steel wall, which many believe could lead to early rusting.
Some reviews are not happy with the smoking quality of the product.
Bottom Line
This is the perfect grill, which can smoke different types of food at a time. If you want to smoke your food with charcoal or wood chips, you should opt for this product. Different types of charcoals could be used in this product, but some prefer using charcoal chimney. It has a temperature control mechanism, which would help you control the temperature you apply to the system. The vertical ensures that heat is evenly applied while averting direct heating at the same time. It is a nice product worth buying.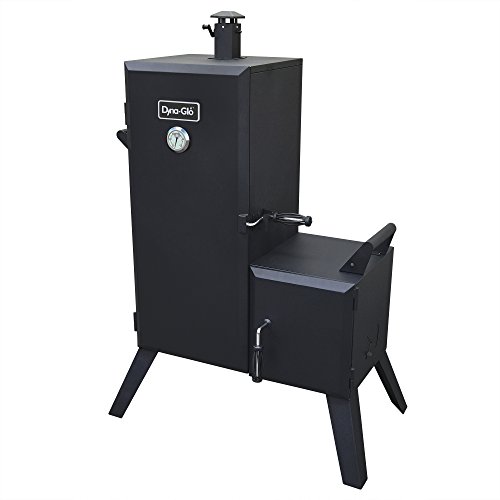 $173.56
$219.00
16 new from $173.56
Last updated on January 2, 2022 9:46 am